Groups are a way to organize your Saved Games so that you can:
quickly assign a group of games to students so that they can play them independently in the Student View.
access them quickly during your therapy sessions, interventions or small groups.
Groups can represent anything you like, be it a differentiated learning group, a class or a set of skills for example.
Below are some ideas for the types of groups you could create.
Learning Groups: If you would like to differentiate games for different ability levels, then you can organize your games into learning groups.
Class Groups: If you teach multiple classes, organizing your games into class groups is a practical way to set up games for students to play. It would likely be too time consuming to individualize games for each student so class groups may work well for you needs.
Skill Groups: Assigning games to Skill groups is another way to organize your games. You could have a Phonemic Awareness group and an Addition group for example. Or have broader groups such as one for Language Games and one for Math Games.
Time of Year Groups: You could have one group for each month of the year and add games related to what you are learning that month as well as any special occasions you may be celebrating.
You can hide specific groups from the Student View so that you can make them visible only when you want your students to play the games in that group.
Creating Groups
To create a group, click on My Students & Groups in the menu bar at the top of the screen. Then click on the My Groups panel to open the Manage Groups page.

Click on Add Group to create a new group.

Enter a name for the group. In this example, I will create a group for the purpose of organizing games by skill. I called this group Math Games.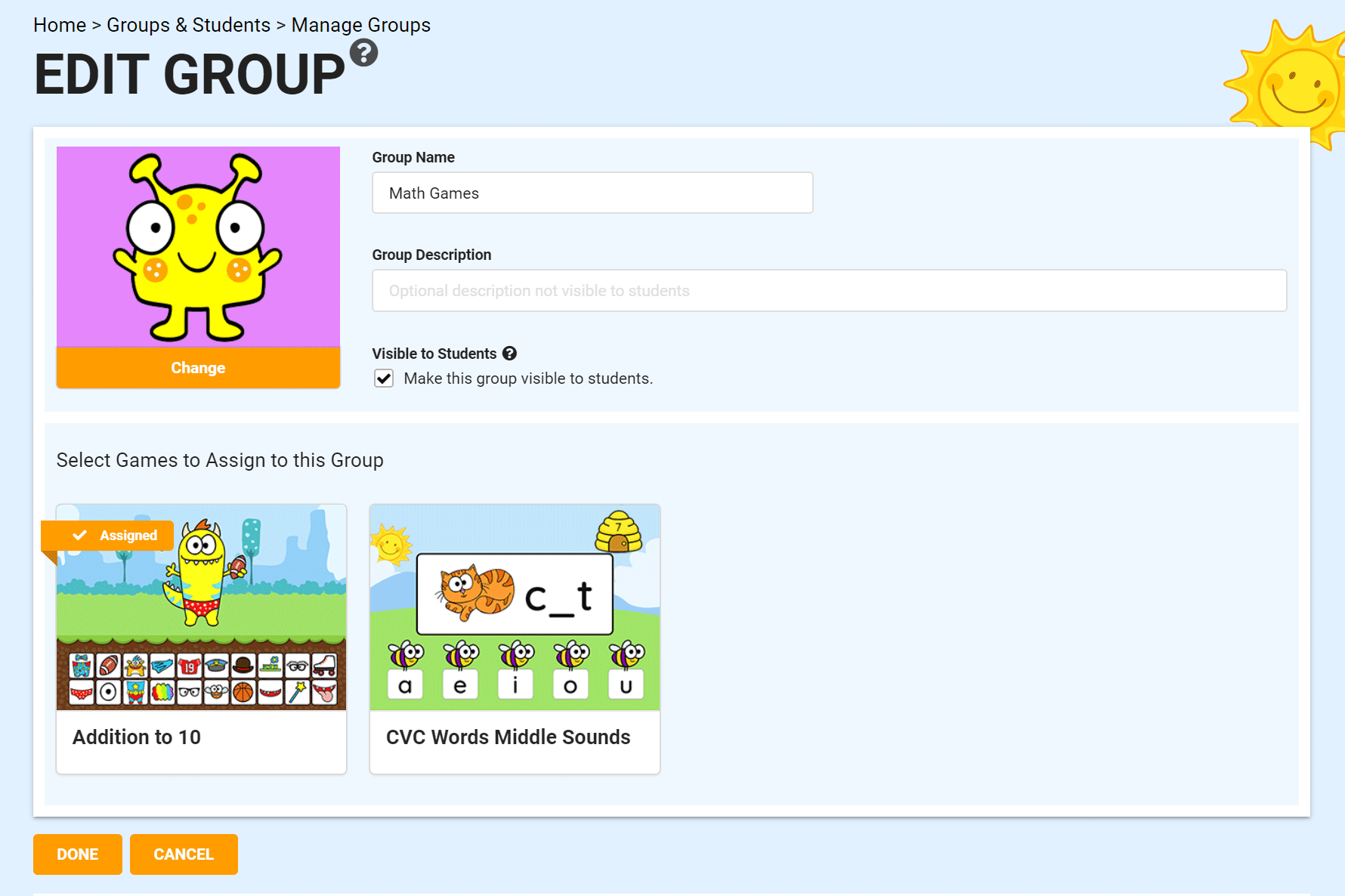 The Group Description is optional. It won't be visible to students, but you can use this space if you want to make a note about the group for yourself.
The Visible to Students check box allows you to hide this group and its assigned games from your students. This feature is useful if you want to create a group of games to be played at a later date. This also makes it easy to save groups year after year and only show them when appropriate.
Any Saved Games that you have created will appear at the bottom half of the Edit Group page. You can assign games to this group here or when you create the Saved Game. To assign a game to this group simply click on a game. An orange banner with the word Assigned will appear at the top of the game picture. To unassign a game, simply click on the game again and you will notice that the orange banner disappears. You can see in the image above that I assigned the Addition to 10 game to this Math Games group.
Click the Done button when you are finished to save the group.
Groups in the Student View
Organizing your Saved Games into groups is the fastest and easiest way to set up the games for your students to play independently. Rather than assigning games to each student individually, you will assign games to one or more groups. You can then assign the groups to students from your Student List, or tell your students which group(s) to choose in the Student View.
If you paste your Student Link in a browser tab, you will see what your students see when they click on the link. This is called the Student View. This view allows students to click on groups or on their name (if you set up students) and then play any games you have assigned. You will see that the Math Games Group now appears in the Student View and if you were to click on the Group, you would see the Addition to 10 game that we assigned.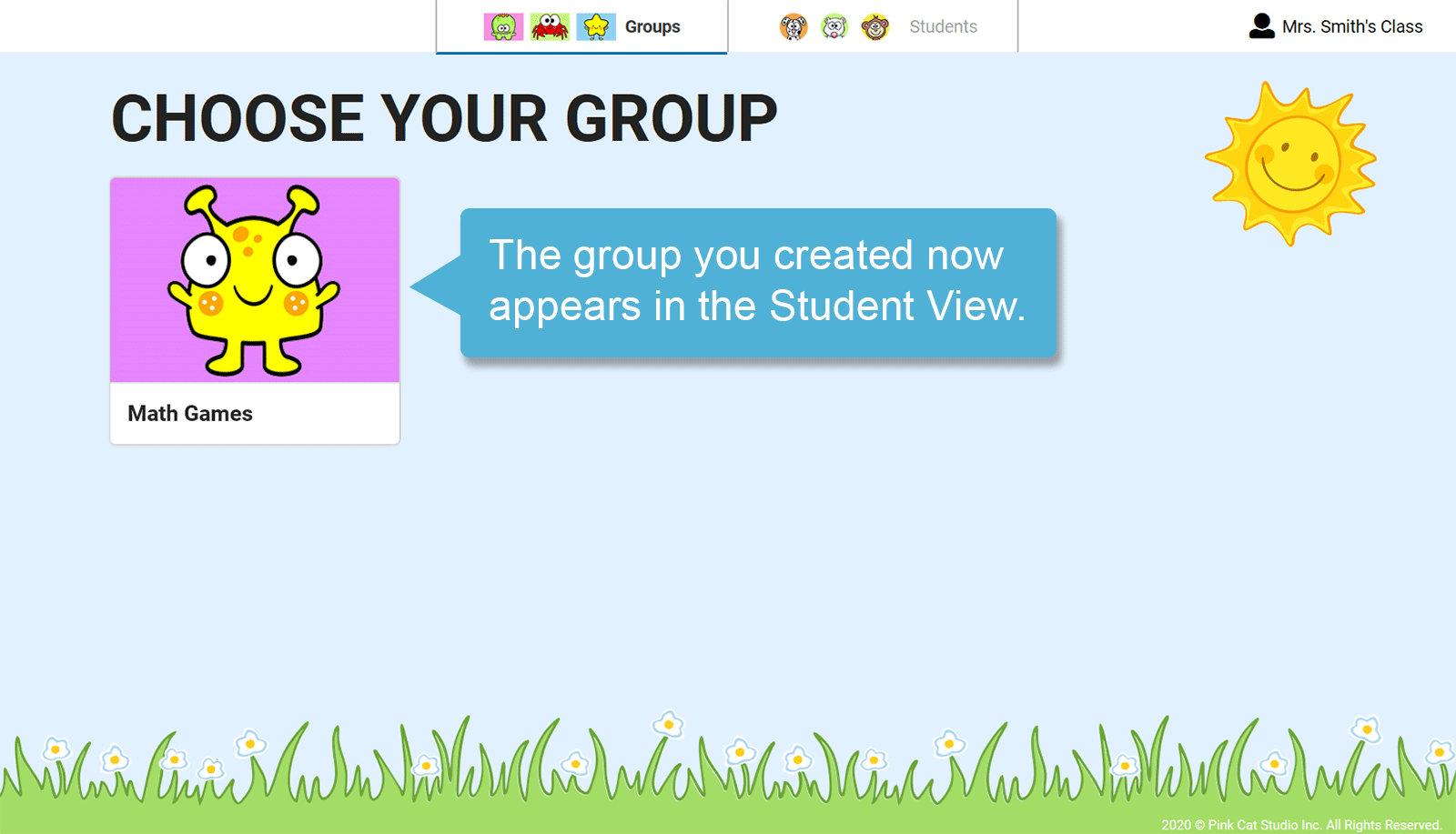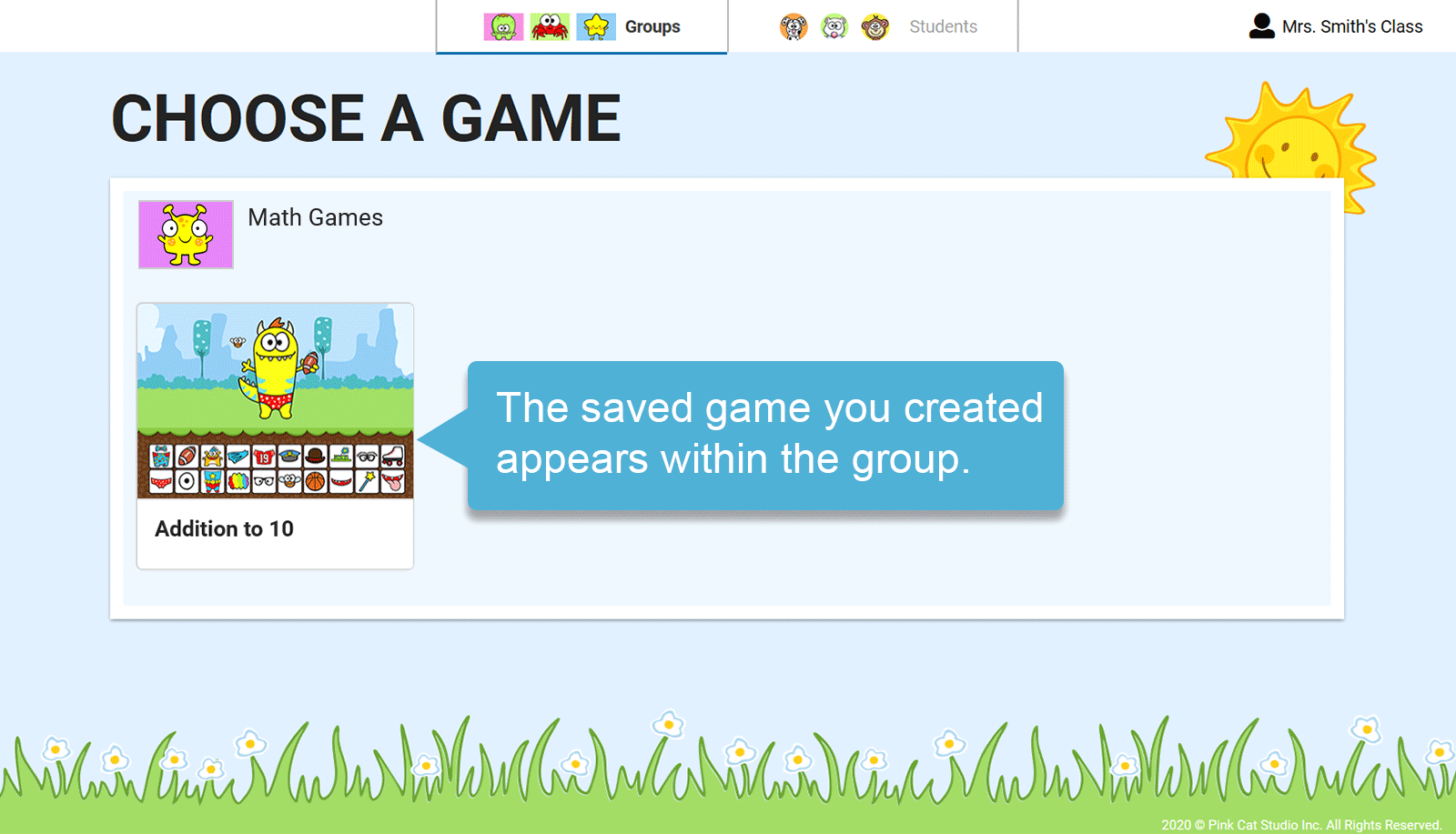 When you go to the Student View you will be logged out of your teacher account. To stay logged in, open a new incognito window in Chrome or private window in Safari or Microsoft Edge. Paste the Student Link into the private window. Now you can access your account and assign games in one window while you browse the Student View in the private window.
In summary, creating groups and assigning games to them is a quick way to organize games for students to play independently or for you to play directly with students.
Students can access the groups by going to the Student View and clicking on the group(s) that you tell them to. You do not have to create students with this method so it is the fastest way to set up games for students to access.
If you would like to differentiate games at a finer level or if you would like to track student progress in games, then you will need to create students and assign games to them through the Student List.